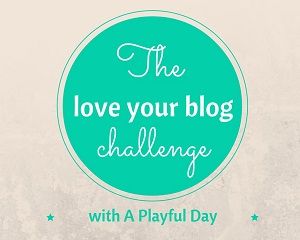 This week's '
Love Your Blog'
prompt is 'Beginnings'. I already
wrote all about how Crafts from the Cwtch began on A Playful Day Blog
, so I won't repeat that here - please pop on over to read it if you're interested to find out more about that, as well as some tips for "loving" your blog.
Following the beginning of the challenge last week, various things have happened as a direct result. Today's post is a bit of a round-up:
* New relationships.
I probably managed to read about half of the posts from
the first prompt
, which is pretty good considering it's the Spring holiday and I've been busy with the children. I had a great time and found some new blogs to follow (also re-discovered a few I'd lost touch with over the last few years - they have been added to Bloglovin') .

*New Commenting Protocol.
I got
a little
frustrated by some of the posts where I was really engaged by the writing but couldn't easily comment. Sometimes I didn't realise this until I'd taken a long time to reply. It made me go back to double-check my own settings. I had disabled the verification process a couple of years ago, but I've now relaxed it further so that anyone can comment easily (I've changed the settings for moderating the comments to counter-balance this).
* New Community.
After reading so many posts from crocheters, on Tuesday I announced that the planned 'knitalong' would become a 'shawl make-along' for knitters
and
crocheters. Did you miss the announcement? Find it
here
. I am so excited to have long-time followers commenting and joining in for the first time as a result of this little change, as well as many new followers on the blog, and on social media. Welcome!
I got yarn to start a new design too... but that's more of an aside!
*
New Name.
The Ravelry group for our knitalongs also changed, and has now become the
"Crafts from the Cwtch Community" group
- we're chatting about the make-along on there right now if you care to join us.
* New Support.
Response to the 'make-along' announcement has been fabulous. As well as enthusiastic participants planning their projects, lots of lovely sponsors and designers have come forward to offer support. I already posted some crochet inspiration, and there will be another post of knitting pattern inspiration as well as some exclusive discounts tomorrow - sssshhhh, there may be a sneak preview for members of the Ravelry group. (If you missed
'The Shawl Project' review and discount
, you can find it here!)
So it's been quite a week, and I definitely feel a new rush of enthusiasm and love for the blog and the community around it. Thanks to everyone who has joined in and left a comment or offer of support - you are awesome. I'd love to hear if anything exciting has begun for you in the last week, please leave an easier-than-ever comment!