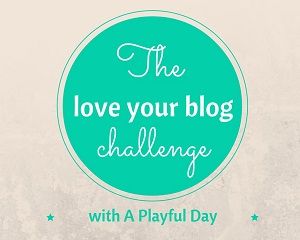 As I
mentioned last week
, I'll be joining in with the Love Your Blog challenge each week in April. The challenge is part of a bigger project called
An Inspired 2015
and you can
read all about both
at
A Playful Day
, where Kate is posting weekly themes/prompts and link-ups for the blog-along. If you're a new blogger looking for some help getting started, a lapsed-blogger who has fallen out of love (or routine) with your blog, or anything in between, this challenge is suitable for you!
This week's prompt is Interactions and Community. When I first saw it, the timing felt perfect as I'd just got back from my day with the "Instagrannies" - a group of crafters from Instagram.
It had started quietly with introductions and chatter which was mostly limited to our projects, crafts, blogs, mutual acquaintances and such. At first we sat around the table working on our own projects and most of our talk was polite and 'on topic'. By lunchtime we had started sharing stories about our selves and our families. The common experience of being women, mothers, and humans of a broadly similar age became more evident and we opened up, laughing and discussing our lives with one another. Barriers began to drop. By the afternoon we were having riotous conversations which are not for discussion here (what goes on at Instagrannies stays at Instagrannies!) - the only thing suitable for sharing with you is this a picture of a
very handsome actor
and an equally lovely alpaca...
I didn't manage much knitting after lunch - we were all too busy chatting and laughing and I left with an aching face. On the drive home, I started thinking about the very real community of crafters in my life as a result of my presence here on the blog and via social media (
Instagram
is the "place" I enjoy the most). It was the first time I'd met almost all of these women but I left feeling I'd spent the day with new friends and am sure I'll be meeting up with many - if not all - again. This experience isn't limited to the women I met last Saturday - it's been happening for the last four years, and much of it began right here with comments from regular readers, and by joining in with blog link-ups.
Two years ago
I wrote about a personal evolution
- my annual trip to Unravel knitting festival had been less about yarn than people - this is an evolution which has continued (to the point of inviting people-I-wanted-to-get-to-know to come to dinner at
this year's Unravel
). Several people I count as true friends would not have come into my life without knitting, blogging and all that has come from it. Four years ago I existed in two very distinct worlds with very little overlap. Over time the balance has shifted considerably. The graphic isn't a scientific representation, but I think you'll get the gist...
I believe that something happens when you connect with people over a common interest (and that could really be anything - my "Tribe" just happen to be yarn crafters). It is the first step towards dropping your guard, sharing yourself and connecting with others.
So how does this relate to loving your blog? Well, I believe that if you write honestly and can find your voice - regardless of what it is you write about - you'll attract readers who relate to what you're saying. How will you know? They will start to interact. It's important to note that it may not necessarily be on the blog post itself - it may spill into Facebook, Instagram, Twitter, email, or wherever your people feel most comfortable. (It may also depend on your spam settings - you can
read my thoughts on that, and on commenting, here
.)
If you take the time to write a blog you're probably doing it because you have something you want to say (even if you're not exactly sure what it is you want to say). It is a time-consuming activity, and posting regularly takes commitment so if your words are unread (or appear to be) it can feel like a wasted effort. This is why interaction and community - having a two-way conversation - are essential to truly finding your blog 'love'.
Throughout April I'm looking forward to reading as many of the other 'Love Your Blog' posts as I can, to finding new voices that resonate with me, and to interacting with the community Kate has drawn together through A Playful Day. For anyone visiting for the first time, don't be shy - if you've enjoyed this post, please leave a comment... and come back again.
If you'd like to join the Crafts from the Cwtch "community" you may like to say hello on
Instagram
or
Facebook
(or
Twitter
although I'm not there very often).
EDITED: after reading other posts, the Spring Knitalong has been ditched in favour of a 'make-along' for knitters and crocheters and it would be lovely to have some new friends on board. Details are here -
http://www.craftsfromthecwtch.co.uk/2015/04/all-change-knitters-and-crocheters-unite.html