Have you seen the new challenge which will be taking place next month at
A Playful Day
? As part of
'An Inspired 2015'
Kate is challenging everyone to fall in love with their blog in April.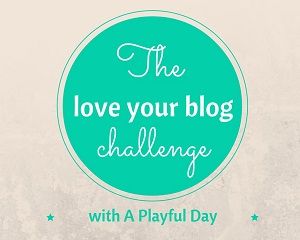 If you're someone who has a blog (or maybe you've abandoned it for a while and are not sure how to start again) there will be plenty to inspire you. If you haven't started your own blog yet, but would like to, this would be a great time to do it - the challenge is open to anyone who would like to take part, and there are just a few simple
rules
.
As well as inspirational weekly prompts, there will be interviews with some fabulous bloggers - you can read about why they blog, how they decide what to write about and what it has taught them. I'm thrilled to have been included and will be telling you about the inspiration for Crafts from the Cwtch and about finding my 'voice'. (I'll post a link to that in due course.)
As well as interviewing established bloggers, Kate will post a new blog prompt each Monday in April (the first one can already be seen
here
) which YOU can join in with. The prompts can be interpreted in any way you wish and when you've published the post, simply add it to the list so we can all find it.
Full
details can be found here
and you can also join the
Ravelry group discussion thread
if you can't wait to chat about it! The first prompt feels perfectly timed after
my (awesome) day with the 'Instagrannies'
on Saturday. I'll be drafting mine tomorrow.