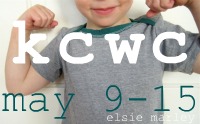 We got back from the school drop-off this morning and I made a long tunic top for Little Miss from some of the charity shop fabric and am quite pleased with it... although she won't try it on, so I don't actually know how (or whether) it fits!!!
Based on a pillow case dress, it took under an hour and cost less than £1 to make. I'd already bought white ribbon to put through it for the ties but I couldn't find it until I'd already fashioned my own strap.
And to make up for yesterday's lack of sewing, when Little Miss went to sleep I spent half an hour making these trousers.
I've struggled to get a decent picture because when I tried them on her to size the elastic, she wanted to keep them on - I think she likes them! I predict there will be several more of these to follow - they're just perfect for summer, and so quick and simple.
I have put the machine away or the temptation will be to keep going today and I have other things to do! (But I will be taking a look at the
flickr group
to see what others are making! )